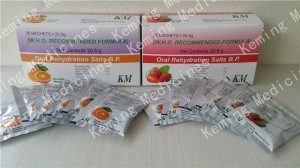 Oral Rehydration Salts B.P.  (Trifecta Pharma TRIORAL Brand ORS)
The most effective and least expensive way to manage diarrheal dehydration.
Diarrhoeal diseases are very common among young children and are a leading cause of death for Children in the developing world. About 2.2 million children die from dehydration due to diarrheal diseases per year with 80% of these deaths occurring within the first two years of life.
ORS helps save more than 1 million children's lives each year!!!
Oral Rehydration Therapy (ORT)
A simple and cost-effective treatment given at home using Shanghai Trifecta Pharma's Trioral ORS can prevent about 90% of child deaths from diarrheal dehydration. Shanghai Trifecta Pharma Co. Ltd is one of the main suppliers of ORS products through the developing world in both the public and private markets.
What do experts say about ORT?
"The discovery of oral rehydration therapy is as important as the discovery of penicillin."
——Professor Mamdouh Gabr – Cairo University, Faulty of Medicine
"A significant development in recent years has been the demonstration that dehydration from diarrhoea of any etiology can be treated using a simple glucose-electrolyte solution given by mouth."
——Nelson Textbook of Pediatrics – 12th Edition 1983
"Nearly 90% of mortality from diarrhoea is due to fluid loss. Accurate and timely replacement of that
loss is lifesaving."
——Dr. Norbert Hirschlorn – Nutrition Reviews Volume 40, page 87, 1982
---
Post time: May-17-2019